Noanie.com receives special requests for care packages
from deployed troops!
read how you can help out below!
---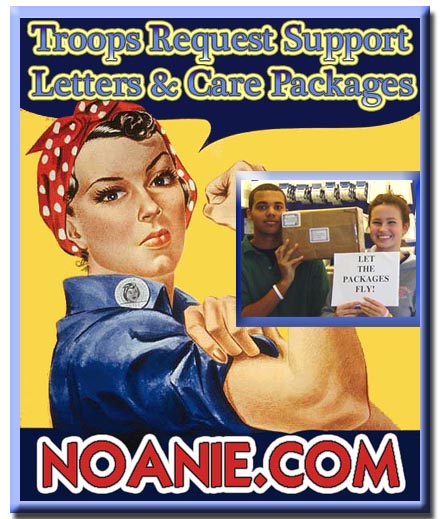 SPECIAL REQUESTS FOR CARE PACKAGES AND SUPPORT FROM OUR DEPLOYED TROOPS...

Would you like to send letters and care packages to deployed troops in Iraq, Afghanistan and others parts of the world? If so, please read restrictions / info below. You can then contact Noanie for the address and wish lists of items that troops have requested.

Due to heightened security and safety concerns we ask that you please include your full name, your home address, and your phone number when requesting a units' address. Emails requesting unit's addresses that do not provide complete info (name, address, number) will not be responded to.

Please do not give the addresses out to third parties (for example, do not post the addresses in a public place, give out to people or ask catalog companies to mail catalogs to troops etc).

Please remember to click mailing restrictions. Common RESTRICTIONS typically include pork or pork by-products, fruits, living plants, vegetables, animals, firearms, alcohol, pornographic, nudity, horror political, anti-islamic literature or items.

Please allow up to 2 weeks to hear back from Noanie. If you don't hear back then resend your email with NOANIE in the subject because sometimes yahoo sends valid emails to the spam junk box.

READY TO CONTACT NOANIE? Email Noanie with your name, address, phone # and ask for "the unit that could use the most help" by clicking here. Some units get lots of requests while others don't so we have added this option. Again, be sure to read RESTRICTIONS before preparing a care package... the page with restrictions noted is usually valid for most places that you will be sending packages to.

If you do not want to send items to the unit that could use the most help, you can still request to send items to the specific units below.

Thanks for showing your support! ~ Noanie

---
IF YOUR UNIT (DEPLOYED ABROAD) WOULD LIKE TO RECEIVE LETTERS
& PACKAGES, email operationbandaid@yahoo.com and include ALL of the following requested info about your unit.
1) What base you are from and what state?
2) What military branch (army, navy, airforce etc)?
3) Where you are stationed (Iraq etc)?
4) We need a detailed list of items needed (not just send anything)
5) How long will your unit be stationed at the location?
6) How many people in your unit?
7) What does your unit do?
8) Does your unit have a nickname?
9) Other information you wish to share that would be useful.
10) Please include the name, email address and mailing address of the person who will be responsible for distributing the letters and packages to the unit.

PLEASE NOTE: THE ABOVE INFO IS MANDATORY IF YOU WANT TO BE ADDED TO OUR SITE. A photo of the unit would be appreciated. Although not required, we would very much like to hear from you when possible to give us updates and feedback that we can share on the site. Also please email us to let us know when you will return to the states.

*See pictures of schools that sent packages to our troops!
---
Schools send packages to our troops!

If your group or school has a success
story about sending packages to troops via Noanie.com and would like to share your story and pics at Noanie.com.. please email us!
---
Help WOUNDED SOLDIERS HERE
---
Military Care package restrictions
What are the restrictions for your APO/FPO Zipcode?
(Restrictions check courtesy of ocunus.com)